BRANDING, DESIGN, AND MARKETING FOR THE GREATER GOOD
Align Your BRAND with YOUR PASSION
Imagine having clarity for your vision, a roadmap for your journey, and a toolkit to evolve your brand–affordably with ease.
Pulling everything you offer together in a cohesive way that you love and your clients connect with (never mind marketing it) can feel so overwhelming. I'll help you get back to what you care about most–helping and healing people, writing your books, making eco-friendly products, inventing–and build a brand as passionate as you are! 
Hi, I'm Gail Gonzales.
I love helping entrepreneurs who care about the positive evolution of people and the planet. Together we'll create a brand that matches your passion whether it's for holistic healthcare, coaching, clean energy, eco friendly products, wellness, or the arts that feed your soul. And I only work with people who share my values.
If you're one of these people I would be honored to create your branding roadmap, the Siri style GPS navigation ("rerouting… rerouting!"), the dream car, the bumpin' sound system, and the fuel for your vision so you can get where you really want to go.
Where Are You Headed?
IF YOU'VE BEEN THINKING:
It's time to build my own dream.
My head is swimming with ideas–where do I begin?
I want to work with PEOPLE, not computers all day!
Relying on referrals is making my income a rollercoaster.
People don't understand what I offer–what am I doing wrong?
I'm so tired of D-I-Y-ing everything.
I'm embarrassed to share my website!
I can elevate your brand or build it from scratch
CONSULTING
Tired of bouncing ideas off your cat? Yeah, me too. I offer a helpful lifeline at an affordable hourly rate whether or not you hire me for the actual work. Why? Because when I needed help everyone wanted $125-$175 an hour. Then I went searching on Facebook groups and down a rabbit hole never getting to actually TALK to someone. Sound familiar? Clients say I'm a great brainstormer, educator, and "idea factory" so let me be that person for you. The first hour is on me. BOOK IT DANNO! 
BRAND STRATEGY
Your brand is so much more than a logo, fonts, or colors. It's about what you love, what you stand for, how you help others, and the passion that led you here. Brand strategy involves research and answering all the deep questions to help you stand out, defining your ideal client, and positioning you to attract them. Your brand strategy is the roadmap that will guide you every time you promote your business saving you time, money and frustration.
SEE A BRAND GUIDE IN ACTION.

GRAPHIC DESIGN
Here's the fun part where all that brand strategy takes visual form! I help you convey your brand through key unique elements creating a visual toolkit you can draw from over and over again. In addition to logos, fonts, and colors my branding kits include key messages, custom icons, images and so much more for you to use in print, social media, and web design. My branding guides are like blueprints for building your site and can include sample layouts.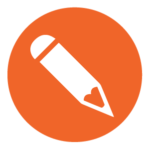 TARGETED WRITING
So many designers and web developers ask their clients to send over "all their content" so they can get started. Uhhh…what does that even mean? That means gathering all your carefully crafted copy and professionally shot photos. Oh, you don't have those? Then you end up hiring several people–none of whom are talking to each other with your brand front and center. I ask for the facts and write with your brand voice to your ideal client with SEO in mind. I take the jargon out, develop a style that fits YOU, and keep clarity, and your story at the heart of your brand. And I have some great writers and photographers in my back pocket too!
WEB DESIGN
This is where we get to really share your message with the world! Well, not just anyone and everyone – I build sites to attract your dream clients. My number one rule is that it doesn't just sit there. It should be interactive and motivate your customers to call you, purchase your services and in short, GROW your business. It also must evolve on a regular basis. That's why I build after the branding is defined so you don't get on the superhighway without a GPS! I pull together everything we've created, add to it designing pages for direction and partner with experts for a seamless build in the industry standard (WordPress).
MARKETING STRATEGY
Sadly, the days of "build and they will come" are over. When my clients say they "just need a logo" or "just need a website" I have to ask," then what?" It's like buying a really nice car with no gas :-(. I want you to get somewhere! I can help with email marketing or get that list started. I find out out out where your customers hang out and then, according to your budget, come up with long and short term strategies where you can see a return. I act as a coach for DIY strategies or partner with paid strategy experts providing brand direction and creative design to turn your prospects into paying customers.
Branding + Writing + Converting Website + Marketing = Results
I get so annoyed with all the ads touting how EASY it is to build your brand and website on your own. The truth is it takes a lot of soul-searching, asking the right questions, brainstorming, and guidance which is why I partner with my clients as a coach, not just a hired hand.
Great branding speaks for you when you're not there to pitch yourself in person. Combine it with targeted marketing and you get momentum.
Your success
is my success
My clients hit the ground running. From launching a start-up to earning $200,000 in their first year (Pure Life Organic Cleaning) or rebranding resulting in a "10-fold increase" in name recognition and a 100K increase in revenue in 18 months (Austin Allen James, Fine art and Furniture), my clients know I am working for their success.
Praise from clients
The highest compliment I often receive goes something like:
"That's so perfect! I couldn't express what I really wanted but you nailed it!"
(happy dance ensues!)
"Gail provides outstanding service and reliability at a very reasonable price. She is so hard working and invested in flushing out concepts for her clients, it was a joy to work with her. She has created all the branding and materials for my new company Pure Life Organic Cleaning and I will be using her for ALL our ongoing graphic design needs. LOOK NO FURTHER, you have found the best branding specialist and designer in Austin!"
"I highly recommend Gail Gonzales for all her work. Gail has created all the branding for my light therapy device including my website, collateral, trade show exhibit, directed photoshoots, and designed a host of sales sheets. She also helped tremendously with the messaging and thought about all the details. She always answers the phone when I call and has yet to miss a deadline. She goes above and beyond the call of duty with ideas on how to market my medical device. Her work is a solid 10!"
Here's a teeny sampling of my work. I am EVOLVING! In fact, I am completely rebranding as we speak, but rest assured I probably have an example of what you have in mind from logo design to every customer touch point.
Just want to ask a quick question?
Say Hello!
Nope I'm not adding you to an email list. Honest, I'll hit you up for that later 😉